Virtual event Nov. 25: How to help someone in a family violence situation
Join a free information session on November 25 to learn how to help yourself or a loved one.
Communications and Public Relations
November 12, 2020
Event date
Wednesday, November 25, 2020
Noon – 1 p.m.
Details
Family violence incidents are increasing in Alberta amid COVID-19. Victims often need help and support from family and friends to get out of a dangerous situation.
Legal Aid is offering a free online information session for Albertans to learn how an emergency protection order can keep someone safe from an abuser. Hear from an expert panel of lawyers and ask questions.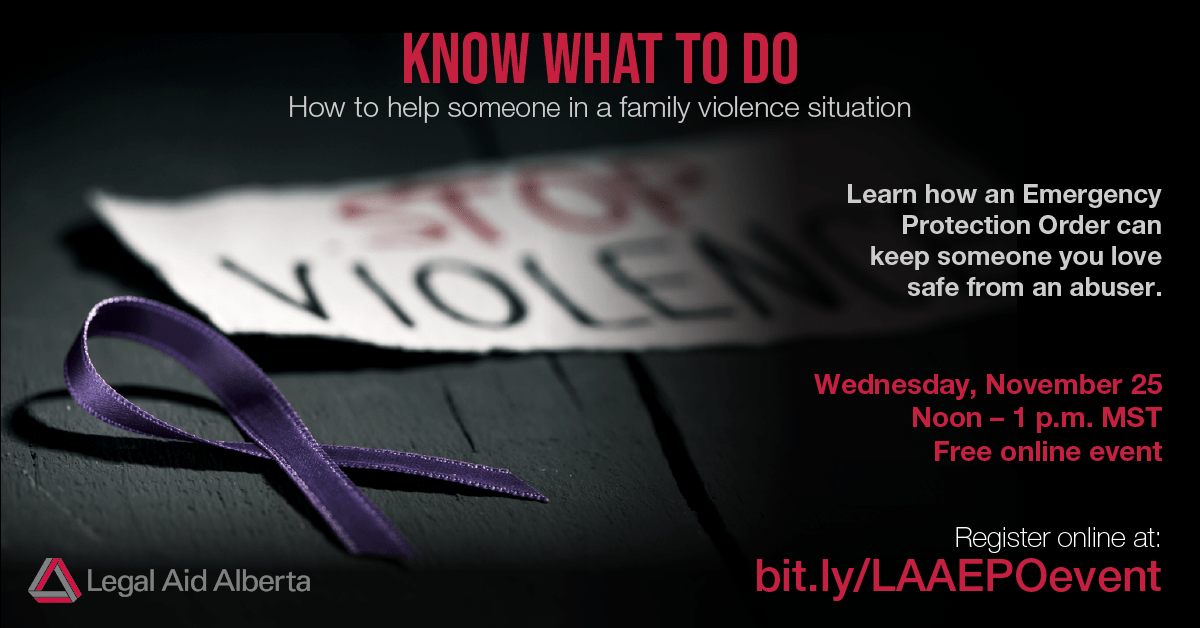 Registration
Register here
The link to join the webinar will be sent via e-mail the day prior, on Tuesday, November 24.
Speakers
Christina Riddoch – LAA staff lawyer and team lead of the Emergency Protection Order Program in Edmonton
Bernadette LaBrie – LAA staff lawyer and team lead of the Emergency Protection Order Program in Calgary
Please note: This session aims to educate the public about Legal Aid services and is not intended as a forum to obtain legal advice.
November 25 is the International Day for the Elimination of Violence Against Women – the first day of the global 16 Days of Activism Against Gender-Based Violence Campaign (16 Days Campaign), which concludes on December 10 with International Human Rights Day.
Due to COVID-19 restrictions, rates of gender-based violence have increased in Alberta and across the world, making this campaign especially important this year.
---