Duty counsel everywhere, for everyone
Alberta is big but no matter where you are, legal aid help is close.
Communications and Public Relations
October 25, 2022
Geographically speaking, Alberta is big. It can take more than a day to drive from one end of the province to the other. We have four million people spread out across dense cities, bustling towns, small villages and rural areas.
No matter where you are in this vast province, Legal Aid Alberta is there when you need it.
Legal aid duty counsel lawyers work in courtrooms across Alberta (in person and virtually) to provide immediate legal information, advice and assistance to people who attend court without a lawyer. Duty counsel is an integral part of our justice system and helps the court system function as efficiently as possible. Duty counsel ensures that everyone is treated equally before the law, not just those who can afford a lawyer.
Support is available in 75 court locations across Alberta
The following chart shows Alberta's primary courthouse locations (in colour) and regional circuit courts listed below. At court, a duty counsel lawyer can help you set a trial date, speak with the Crown on your behalf, explain the nature of your charges, and more. Duty counsel is a free service available to all Albertans, regardless of your income.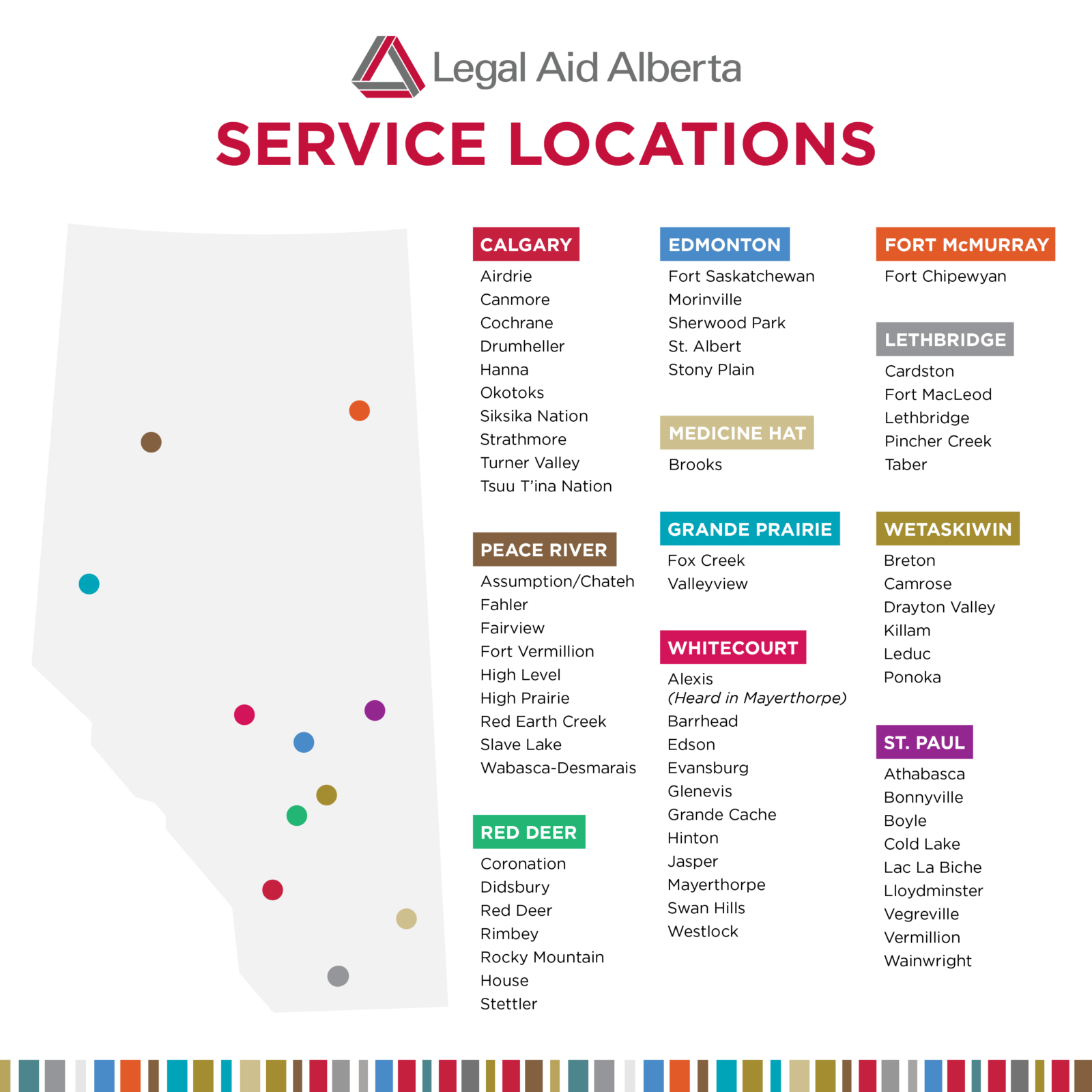 Duty Counsel Day is Oct. 27
Duty Counsel Day is a national day of recognition to raise awareness about legal aid duty counsel lawyers whose work ensures that everyone is equal before the law, not just those who can afford a lawyer. Every year across Canada, duty counsel provide help to Canadians more than 1.2 million times. Spread the word and get involved.
---