Answers to eight common questions about how legal aid works
Standing up for people's rights is what we do. Here's how, and why it matters.
Communications and Public Relations
February 16, 2022
An Alberta without legal aid would be disastrous for the justice system and society.
Families unable to escape imminent threat of violence. Children in domestic danger. Albertans unrepresented and confused in court. People with limited financial means unable to pay for expensive court proceedings and trials. An overburdened and inefficient court system.
Legal Aid Alberta (LAA) protects people's rights, represents the best interests of children and youth and defends clients at trial. We're lawyers, call centre staff and administrative professionals working together to provide an essential service to thousands of Albertans.
Here are answers to eight frequently asked questions we get from clients and the public. Visit our Help Centre for answers to additional FAQs.
Question 1: Who needs Legal Aid Alberta?
Across this vast province, from urban downtowns to small towns, significant numbers of Albertans depend on Legal Aid Alberta.
We help families in crisis and disadvantaged citizens of all ages who have come into conflict with the law, including youth, people who suffer mental illness or addiction and refugees.
Legal aid duty counsel lawyers are in courtrooms across Alberta to provide immediate legal information, advice and assistance to unrepresented people.
By the numbers*
34,500+ – total number of clients
28,000+ – bail hearings for people held in custody
16,000+ – calls for help from the 24/7 police hotline
---
Question 2: How busy is Legal Aid Alberta?
We have more than 34,000 clients across the province and the need for legal help never stops. LAA Contact Centre agents field hundreds of calls every day.
Priority callers
Youth and adults in custody
Anyone calling for an emergency protection order
People calling for duty counsel advice before a first appearance in court
COVID-19 has put immeasurable pressure on just about every call centre on the planet, including ours. The good news is, we recently implemented more reliable Contact Centre technology to better support clients and our teams taking calls on the frontlines. We have hired more staff to meet demand.
---
Question 3: Who's financially eligible to receive assistance from LAA?
If you're an adult, your income must meet our financial guidelines in order to qualify for legal services. Not unlike applying for income assistance, a mortgage or a student loan, there's a process in place to determine eligibility, and just like those agencies we may look at documents like income tax returns and bank statements to determine if you qualify. And you still have to pay for legal services – but at a much more affordable rate than private lawyers.
We do provide some free legal services to all Albertans, regardless of income. Keep reading.
---
Question 4: How much does legal aid cost?
Some Legal Aid Alberta services are FREE for all Albertans. See Question 7.
For most legal issues, legal aid representation is not free but will cost much less than a private practice lawyer. The cost of having a legal aid lawyer represent you depends entirely on the scope of legal services you need.
Legal Aid Alberta lawyers charge a reduced hourly rate, plus miscellaneous fees. The fees a lawyer can charge are outlined in the LAA Tariff.
Legal Aid Alberta pays your lawyer during your case and we work with you to set up a re-payment plan. All clients are expected to re-pay Legal Aid Alberta for their lawyer's services. There is no interest on a bill with Legal Aid Alberta, and you are not responsible for paying GST.
It's important to remember that Legal Aid Alberta is a nonprofit organization. We receive most of our funding from the Alberta Government. Providing free legal services to every single Albertan is a utopia for us but would ultimately cost billions.
---
Question 5: What types of legal issues do you help with?
Our legal practice is focused on critical services Albertans need the most. In order to have a lawyer appointed to represent you, your legal issue must be one that we cover:
Adult criminal cases account for a significant portion of our caseload, followed by family issues, youth crime, child welfare cases, and immigration matters.
People with legal issues that don't qualify for legal aid, such as housing and tenant disputes, wills and estates and traffic tickets, are referred to other partner agencies in Alberta – from legal clinics to social assistance organizations and counselling services. We have connections in the community to help people find the support they need.
---
Question 6: Can I still get legal aid if I live in a remote community?
We are Alberta-wide, which means legal help is close no matter where you are.
We represent clients in more than 75 communities. This is possible because we have a network of 1,200 roster lawyers who take legal aid cases. Roster lawyers are practice practice lawyers who play a crucial role in serving disadvantaged Albertans, especially in remote communities.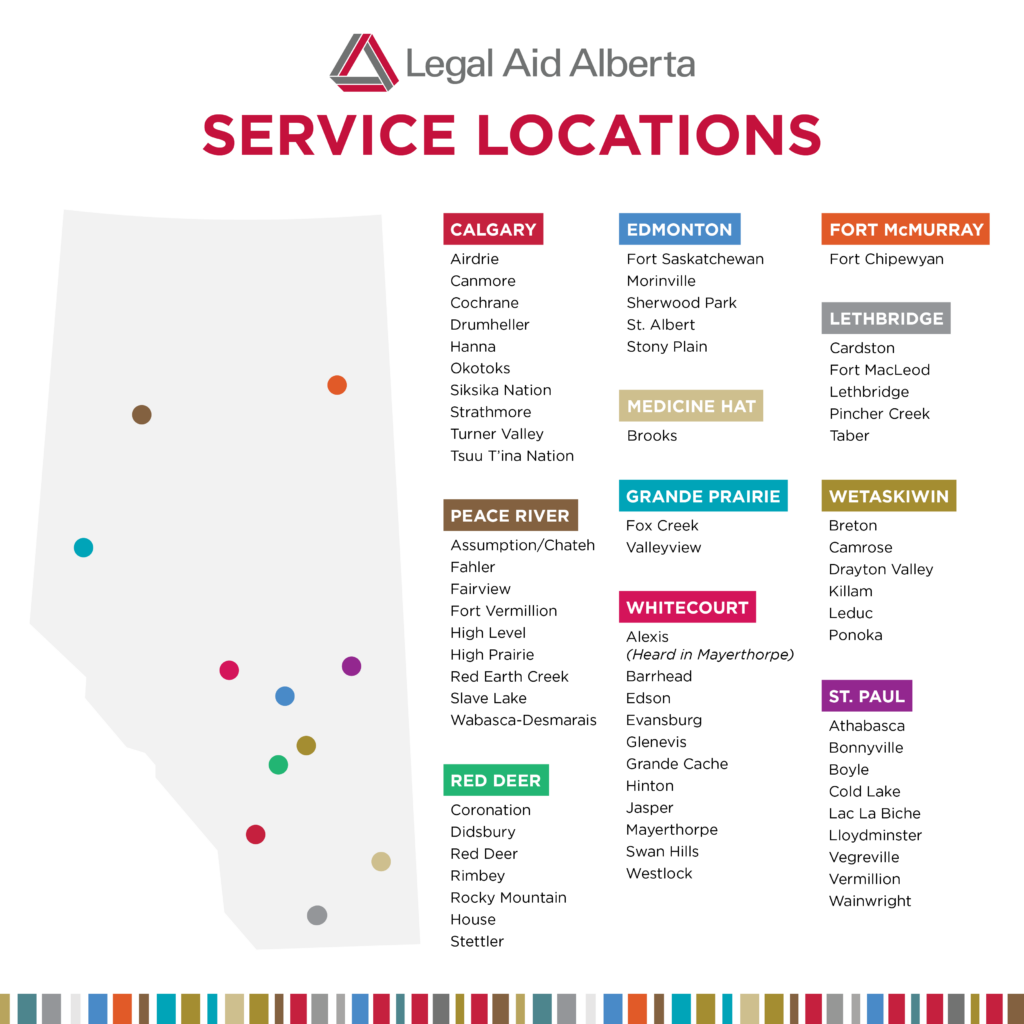 ---
Question 7: Is it true that some legal aid services are free?
Yes, some legal aid services are guaranteed and free for all Albertans.
Not everyone qualifies for legal aid representation, however, we do provide several free essential services to support and protect the rights of all Albertans and prevent unnecessary and costly court delays. Without these frontline services, the justice system itself would struggle to keep up with caseloads.
Duty counsel advice
Duty counsel lawyers are available by phone and in courtrooms to provide brief legal advice to Albertans regardless of income. Duty counsel lawyers are your voice in a system that can seem complex, adversarial and overwhelming. Early Assistance Appearance service lets you speak with duty counsel up to 14 days before your first court appearance. Duty counsel service is free to all Albertans.
Mental health review hearings
In most cases legal representation in mental health cases is free. We may be able to help you if you have a hearing coming up before the Alberta Review Board or if you want a mental health review panel to: release you from a hospital where you're being held under the Mental Health Act; prevent a doctor from declaring you incompetent to make treatment decisions; stop a doctor from treating you against your will; cancel or change your Community Treatment Order.
Bail hearings
All Albertans qualify to have a legal aid lawyer speak for them at a bail hearing at no cost. During the last year, LAA lawyers conducted more than 28,000 bail hearings. The free service operates 16 hours a day, seven days a week, 365 days a year.
24/7 hotline from jail
Last year, Albertans being held in police custody placed more than 16,000 calls for help to LAA lawyers. These phone calls are free, giving Albertans an opportunity to get critical advice and to know their rights so they can make informed decisions.
Emergency protection orders
Any Albertan facing imminent domestic danger can come to us to apply for an emergency protection order. Last year we facilitated more than 2,000 applications at no cost to the victim.
---
Question 8: How can I send a comment or suggestion?
We're committed to continuous improvement, and we welcome your stories, ideas and (yes) complaints.
Like any public service, Legal Aid Alberta is constantly evaluating service delivery to continue meeting the needs of Albertans. We welcome the healthy exchange of ideas to improve our processes and innovate.
Send us your story, concern or suggestion
---