"A vital mission"
Long Service Awards celebrate 23 employees from around Alberta who've been with Legal Aid for five,10,15 and 20 years.
Communications and Public Relations
October 16, 2020
Scott Hammond was a lawyer with Legal Aid Alberta when there were few computers – only stacks of boxes filled with legal paperwork, piled floor to ceiling, everywhere you looked.
Technology has changed considerably in the last 15 years but his motivation for working at Legal Aid has stayed constant – to provide fair and equal access to justice.
"In Canada, we have rule of law. People can go to the courts, have their dispute heard, and they can expect to be treated fairly," he says. "Extending rule of law to every member of our society is a vital mission and one that I am proud to support."
Related: Meet the Legal Aid lawyer who's been helping at-risk youth find their way for over 20 years
Hammond is one of 23 employees celebrating a milestone work anniversary in 2020. LAA's Long Service Awards – held virtually for the first time – honour employees who have been with the organization five,10,15 and 20 years.
"As long service awards recipients, you are and have always been, LAA Ambassadors," says President and CEO John Panusa. "You've kept us going. You keep us going."
"Best work ever"
Award recipient Lorena Melara started her LAA career as a receptionist. Fifteen years later she works with lawyers on youth and criminal adult law cases.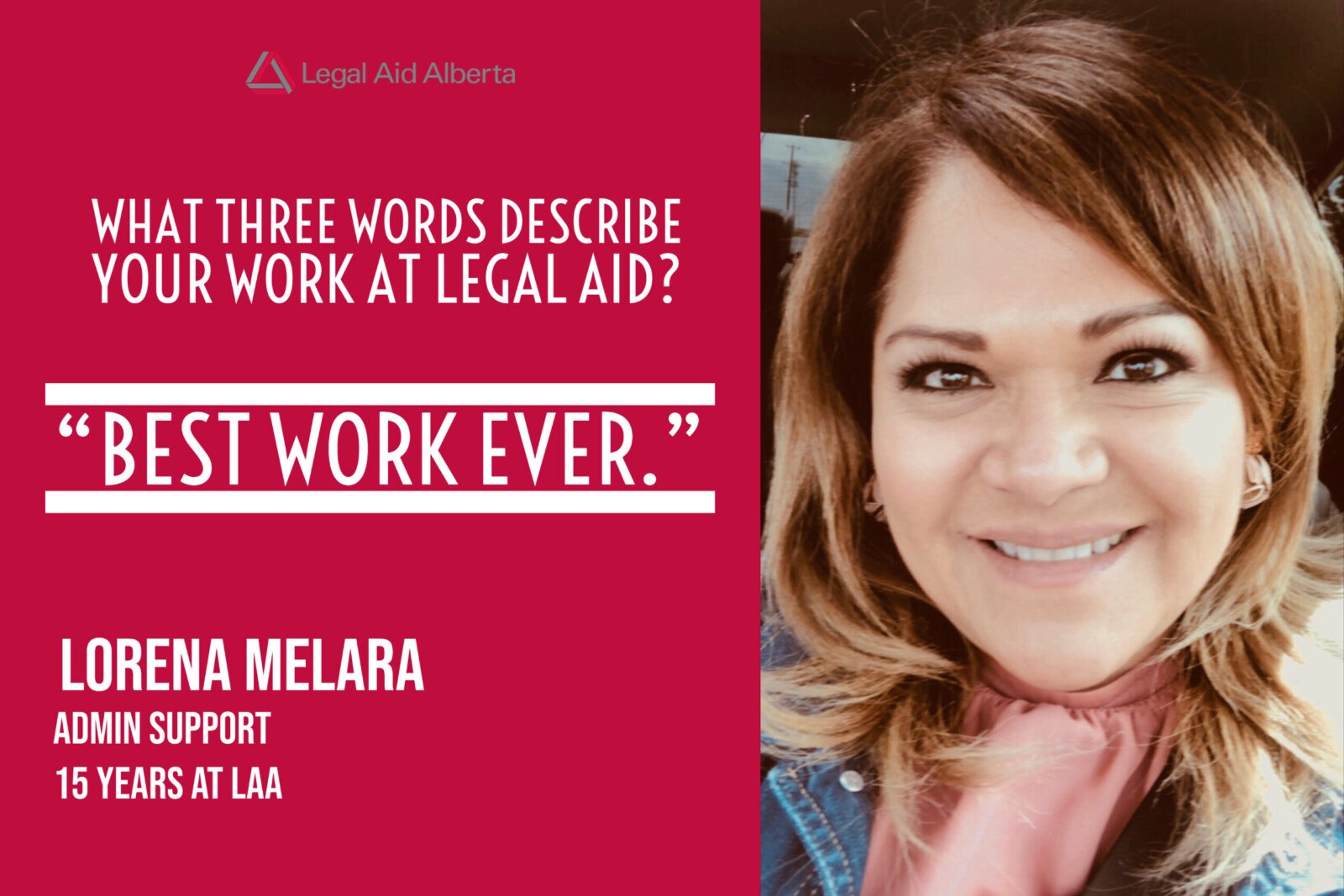 "It's the best work ever," she says. "For me, it's all about helping kids. It has changed my perspective."
Legal Aid Alberta has more than 300 staff and lawyers in eight offices across Alberta. This year's award recipients work in Edmonton, Calgary and Lethbridge.
Congratulations to the 2020 LAA Long Service Award Winners.
20 years
Cyndi Brand
Edmonton
Karen McGowan
Edmonton
15 years
Scott Hammond
Edmonton
Lorena Melara
Edmonton
10 years
Lowell Carroll
Calgary
Alexander Fleming
Edmonton
Jason Glabb
Edmonton
Sonia Haer
Edmonton
Stephen Jenuth
Calgary
Song Lan
Edmonton
5 years
Samantha Busby
Edmonton
Amna Qureshi
Edmonton
Marshall Gourlay
Lethbridge
Tasha Halldorson
Edmonton
Lori Haughian
Edmonton
Amanda Kabanzi
Edmonton
Patricia Kelly
Calgary
Rosalie Lasay
Edmonton
Stephen Shirt
Calgary
Dominika Scherbakov
Edmonton
Chandra Thomson
Calgary
Vinny Wang
Edmonton
Tracy Zander
Edmonton
---