Fighting the 'fear of the legal system' for the Indigenous community
One of the biggest obstacles for First Nations people is fear and lack of trust in the legal system, but there are ways to change that. Legal Aid Alberta Indigenous lawyers say now is the time for change.
Legal Aid AB
June 25, 2020
One of the biggest obstacles for First Nations people is fear and lack of trust in the legal system, but there are ways to change that. Legal Aid Alberta (LAA) Indigenous lawyers say now is the time for change in the province, and there are practical solutions at the systemic level.
Two LAA staff lawyers, Grace Auger and Jessica Buffalo, point to Siksika Nation's model and Calgary Indigenous Court as practical ways we can start to bridge the gap for Indigenous individuals as they navigate the justice system.
"Given the history of oppression towards Indigenous people in Canada, many have untrusting relationships with the Court. First Nations people are open to me because I'm First Nations. The trust is there," says Auger, a duty counsel and criminal lawyer at Siksika Nation. "The biggest obstacle for them is fear."
The Siksika Nation joint program is a fully-staffed Legal Aid Alberta office 95 kilometres east of Calgary.
Located in Siksika National Tribal Administration building (pre-COVID-19), the office provides members of Siksika with a wide range of high quality legal services and gives meaningful consideration to Siksika and Indigenous culture and values.
As a Bigstone Cree Nation person working in the justice system since 1997, Auger's strong connection to her culture allows her to provide valuable support on legal issues facing Indigenous communities.
"Many Indigenous people don't want to speak up. I consider myself one of the people who can, and I feel a real obligation to educate both sides." Grace Auger, staff lawyer
Buffalo agrees. The LAA Calgary Indigenous Court duty counsel lawyer says there are so many stories where someone who is Indigenous is seeking help and they end up getting arrested themselves.
"This builds fear and mistrust. My family has told me they don't trust the system," she says.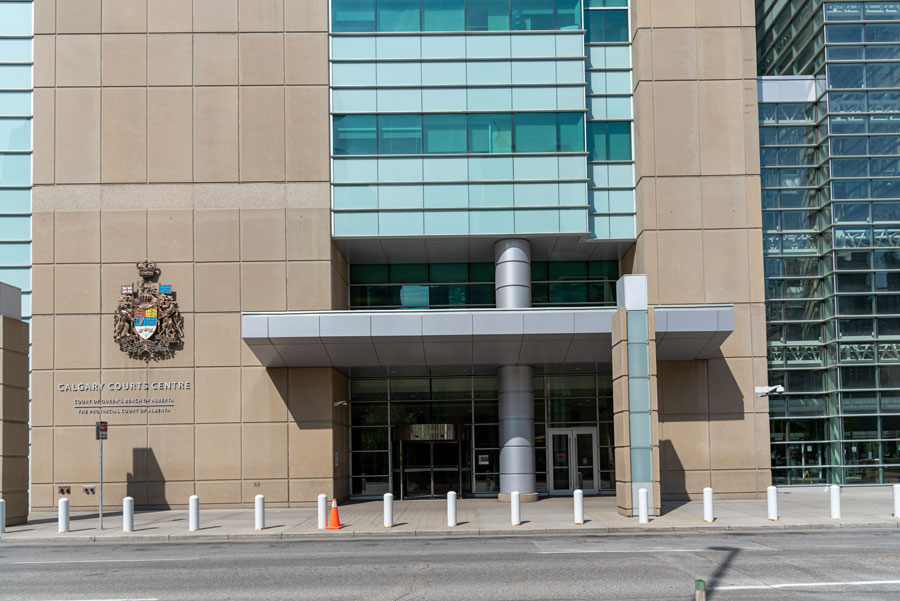 The Calgary Indigenous Court (CIC) was launched in fall 2019 and Buffalo was recruited by LAA to help with the planning stages and protocols. The Indigenous Court guarantees that Gladue principles are implemented, and that an individual's Indigenous background is taken into consideration in sentencing.
Gladue principles take their name from R. v. Gladue, a 1999 Supreme Court of Canada decision. Gladue marked the beginning of Canadian courts' recognizing the role that Canada's colonial history has played in the lives of Indigenous persons' convicted of criminal offences in Canada.
"Gladue Court is a special court for people charged with a crime and who self-identify as Indigenous, Métis, First Nations, or Inuit," explains Buffalo, who is originally from Samson Cree Nation.
"The justice system would do better if they had more of these specialized courts, like the Mental Health Court in Edmonton and the Calgary Indigenous Court. There are people who go through courts all the time, and these issues should be addressed at the systemic level, not in the correctional system."
Government of Canada stats show there is an Indigenous overrepresentation in the Canadian justice system.
In her six months as a Legal Aid Alberta lawyer in Calgary Indigenous Court, Buffalo has seen First Nations clients from Tsuu T'ina, Bearspaw, Morley, Stoney Nakoda, Northern Alberta, Turner Valley and B.C.
Buffalo believes the Siksika Nation model and Indigenous court are just the beginning of what we can do to protect the rights of all individuals, including First Nations.
"Now is the time for change, to continue to build that trust. My clients have said, 'Thank you so much for being here to fight for us and for giving us a voice.'"Jessica Buffalo, staff lawyer
Danny Lynn, Legal Aid Alberta senior advisory counsel, who put together the LAA Indigenous Action Plan, is hopeful as he sees the positive impact the Calgary Indigenous Court and the Siksika model have had for Indigenous clients. "We need to apply best practices learnt from the Siksika and CIC models and promote the expansion of the Indigenous Courts to other communities across Alberta."
---